Yoshimoto Overview





What makes Yoshimoto Physical Therapy Unique:



What makes us unique? We take pride in providing optimal therapist-to-patient ratios where you receive individualized care. We believe you are the most important person, and you will never be herded into a group therapy session.


Personalized care-not group therapy
Ongoing patient education in injury prevention
Thorough evaluation of each injury
Advanced manual therapy techniques
State-of-the-art rehabilitation equipment
Cutting-edge exercises
Specialized Programs:
Orthopedic and sports injuries
Performance recovery program
Auto injuries
Work conditioning and work-related injuries
Highly Qualified Staff:


Our highly educated and trained therapists are leaders in the industry and possess a broad range of knowledge and clinical experiences invaluable to your care.


---
Steven Lim
Education
Master's of Science degree
University of Hawaii, 2003

Doctorate of Physical Therapy
University of Nevada Las Vegas, 2011

Physical Therapy interests:
Sports related injuries, manual therapy treatments, and vestibular balance disorders.

Hobbies:
Spear fishing, mixed martial arts, snowboarding, fishing, hunting, and golf. Member of the National and Hawaii Physical Therapy Associations


---
Jason Mendes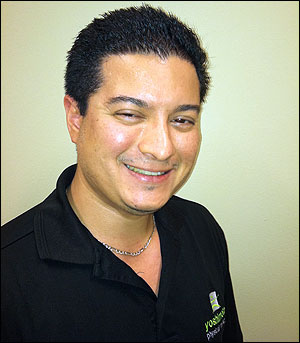 Education
I was born and raised in Honolulu, Hawaii. I attended St. Louis high school and received my Physical Therapy Assistant degree from Kapiolani Community College in 1995.

Physical Therapy interests:
Physical therapy is an exciting and rewarding field for me. I enjoy helping people get their lives back to normal and return to their daily living, work or sports. I have been with Yoshimoto Physical Therapy since 2003 and truly believe that this clinic provides the best care for our patients.

My work experiences has been in a variety of orthopedic and sports medicine clinics.

Hobbies:
Martial arts, skateboarding, inline skating, and parkour (a new hobby.)


---
Mel Young


Education
Doctorate of Physical Therapy
Creighton University, 2000

Physical Therapy interests:
Orthopedics, pediatrics, shoulder and knee rehabilitation, manual therapy and Pilates.

Hobbies:
Spending time with family, painting, baking, teaching Sunday school/ toddler music class, singing, shopping, snowboarding.


---
Lisa Schostok, DPT, CSCS


Bio:
Lisa was born and raised in Illinois and attended St Louis University in Missouri for her Doctorate in Physical Therapy. With her love of traveling and continued education in mind, she worked as a Travel Physical Therapist for 3 years before moving to and falling in love with Hawaii in 2017. Between clinical rotations and work experience, she learned from clinicians in 6 states and in a variety of clinical settings. She now enjoys utilizing her experiences and knowledge to practice at Yoshimoto Physical Therapy.

Education
Saint Louis University
B.S in Exercise Science, Minor in Psychology, 2012
Doctor of Physical Therapy, 2014

Physical Therapy interests:
Sports and Athletic related injuries, manual therapy including joint mobilizations and IASTM, orthopedic conditions, and injury prevention and wellness.

Hobbies:
Loves traveling, freediving, hiking, scubadiving, photography, exercising, documentaries, podcasts, and new experiences.


---
Rovyn Nakahara - Office Manager
---
---
Suzanne K.M. Ocariza, PT






Education
DPT from Creighton University 2001

Physical Therapy interests:
Outpatient/orthopedics, vestibular, TMJ, geriatrics

Hobbies:
Ballroom dancing, traveling, reading.


---


Click here for accepted insurance and FAQs


"My physician initially stated that my shoulder was torn and that I would require reconstructive surgery. I elected to receive physical therapy instead of surgery and my physician referred me to Yoshimoto Physical Therapy

I am very grateful to Dean for extensively rehabilitating my shoulder and enabling me to avoid surgery.

I have recommended my close friends to Dean and would recommend anyone to try physical therapy with Dean Yoshimoto."



~ Joanna Sullivan

>> More Testimonials


Pacific Business New picks Yoshimoto Physical Therapy as one of its
Healthiest Companies for 2011