Yoshimoto Overview





What makes Yoshimoto Physical Therapy Unique:



What makes us unique? We take pride in providing optimal therapist-to-patient ratios where you receive individualized care. We believe you are the most important person, and you will never be herded into a group therapy session.


Personalized care-not group therapy
Ongoing patient education in injury prevention
Thorough evaluation of each injury
Advanced manual therapy techniques
State-of-the-art rehabilitation equipment
Cutting-edge exercises
Specialized Programs:
Orthopedic and sports injuries
Performance recovery program
Auto injuries
Work conditioning and work-related injuries
Highly Qualified Staff:


Our highly educated and trained therapists are leaders in the industry and possess a broad range of knowledge and clinical experiences invaluable to your care.


---
Steven Lim
Education
Master's of Science degree
University of Hawaii, 2003

Doctorate of Physical Therapy
University of Nevada Las Vegas, 2011

Physical Therapy interests:
Sports related injuries, manual therapy treatments, and vestibular balance disorders.

Hobbies:
Spear fishing, mixed martial arts, snowboarding, fishing, hunting, and golf. Member of the National and Hawaii Physical Therapy Associations


---
Jason Mendes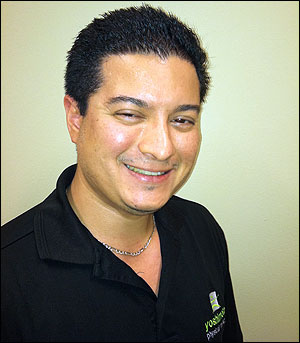 Education
I was born and raised in Honolulu, Hawaii. I attended St. Louis high school and received my Physical Therapy Assistant degree from Kapiolani Community College in 1995.

Physical Therapy interests:
Physical therapy is an exciting and rewarding field for me. I enjoy helping people get their lives back to normal and return to their daily living, work or sports. I have been with Yoshimoto Physical Therapy since 2003 and truly believe that this clinic provides the best care for our patients.

My work experiences has been in a variety of orthopedic and sports medicine clinics.

Hobbies:
Martial arts, skateboarding, inline skating, and parkour (a new hobby.)


---
Mel Young


Education
Doctorate of Physical Therapy
Creighton University, 2000

Physical Therapy interests:
Orthopedics, pediatrics, shoulder and knee rehabilitation, manual therapy and Pilates.

Hobbies:
Spending time with family, painting, baking, teaching Sunday school/ toddler music class, singing, shopping, snowboarding.


---
Rovyn Nakahara - Office Manager
---
---


Click here for accepted insurance and FAQs


"My physician initially stated that my shoulder was torn and that I would require reconstructive surgery. I elected to receive physical therapy instead of surgery and my physician referred me to Yoshimoto Physical Therapy

I am very grateful to Dean for extensively rehabilitating my shoulder and enabling me to avoid surgery.

I have recommended my close friends to Dean and would recommend anyone to try physical therapy with Dean Yoshimoto."



~ Joanna Sullivan

>> More Testimonials


Pacific Business New picks Yoshimoto Physical Therapy as one of its
Healthiest Companies for 2011