Senior Athlete Wellness



The truth of the matter is that "age happens," but that doesn't mean you have to surrender your flexibility, strength, balance, and coordination. The answer? Training and exercise.

We believe that seniors of any age or activity level can improve their fitness and decrease their chances of injuries through proper training, exercises, and professional guidance.

For active seniors: We will assess your current physical condition and design a personalized exercise program specific to your level of conditioning and personal goals.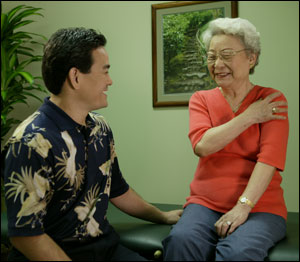 For sedentary seniors: It's never too late to start an active lifestyle. We will create a program for you to improve your endurance, strength, balance, and coordination. You will notice an improvement in your physical performance while minimizing your risk of future injuries.

This 12-week program calls for three visits per week. Individualized goals will be established following a thorough evaluation and assessment.

Please call to inquire for pricing.




Click here for accepted insurance and FAQs


"My physician initially stated that my shoulder was torn and that I would require reconstructive surgery. I elected to receive physical therapy instead of surgery and my physician referred me to Yoshimoto Physical Therapy

I am very grateful to Dean for extensively rehabilitating my shoulder and enabling me to avoid surgery.

I have recommended my close friends to Dean and would recommend anyone to try physical therapy with Dean Yoshimoto."



~ Joanna Sullivan

>> More Testimonials


Pacific Business New picks Yoshimoto Physical Therapy as one of its
Healthiest Companies for 2011